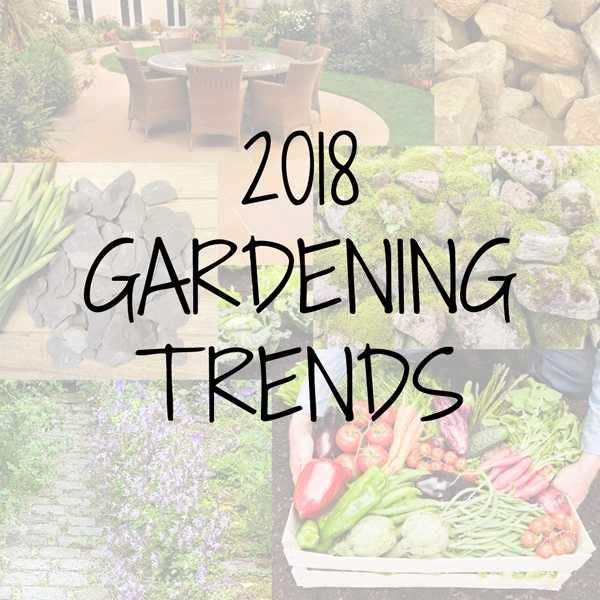 2018 Gardening Trends...
Here at Dandy's we like to be one step ahead of the gardening trends, so here's our prediction for 2018!
1. GROW YOUR OWN
Growing your own veggies and fruits is back in a big way.  Veganism is the one of the fastest growing lifestyle movements with a 360% increase in Brits choosing a plant-based diet.  Coupled with rising food prices and awareness of growing organic there hasn't been a resurgence in the grow your own movement since the recession.
Becoming more self-sufficient is easy - start off with a small section of your garden dedicated for a veg plot, or a large planter is ideal for salad leaves, herbs and tomatoes.  These can grow well in boxes on balconies and patios and cost a fraction of the supermarket price too. Check out our VegeGrow Topsoil - it's ready mixed with everything you need so that you can plant straight into it!  Once you get become a seasoned veg grower investing in a greenhouse will increase your yield all year round! 
2. 'VERDURE' PALETTE 
The 'Verdure' palette features colours naturally found in woodlands and vegetation such as purple, red wood, blue and green.  Introduce splashes of colour with clay pots of flowering herbs like lavender, Thai basil and rosemary.  Our Welsh Crushed Slate is the perfect hue to compliment this gardening trend.
If you have wooden fencing or furniture, give them a new lease of life by sanding them down before splashing on a coat of eggshell blue paint to complement the shades of your new plants.
Some other products you may be interested in to get your beautiful Verdure garden:
3. WABI-SABI JAPANESE GARDEN
If you're not a very hands on gardener then this new gardening trend is perfect for you! 
'Wabi-sabi' is an acceptance of the natural cycle of growth, decay, and death which has been practised in Japan since the 15th century.
The key is to balance nature and nurture, so sit back, relax and reflect on the beauty of your garden's natural imperfections. Overgrown borders, moss-covered stones, rusty iron gates and weathered pots are all bang on-trend. It helps if you don't have a lawn (we don't advise letting your lawn go wild!) so small spaces or areas with large borders and natural pathways will work well with Wabi-Sabi!
Our Wild Flower seed mix will give your garden the Wabi-Sabi feel without it looking messy, and produce some beautiful colours in the process!  Add texture to your garden and help that moss grow with some natural rockery stone. Our Landscaping Bark will add a natural look and suppress weeds so you really can just sit back and relax!
4. ALFRESCO DINING
Even despite our lovely, unpredictable British weather we are a nation embracing the Mediterranean lifestyle!  Outdoor entertaining will be a key trend for Spring/Summer 2018 – perfect if you lack space in your kitchens or dining room, as we can move entertaining friends and family outside. Create a dedicated area with paving or gravel ready for furniture and a barbecue.  Our stunning range of natural stone paving is the perfect investment into alfresco living.  If you are on a tighter budget check out our gravel and slate range!
 5. THE INDOOR GARDEN
For years we've been hearing about the garden as an outdoor room and the next trend is the home as an indoor garden. House plants are making a big comeback!
Cacti are really popular choices, and trendy amongst the younger generations thanks to Instragram and IKEA.  This trend suits "convenience gardening" as well as urban and rental lifestyles, and to promote health and well-being within the home.
Get started with our handy bags of Organic Compost!