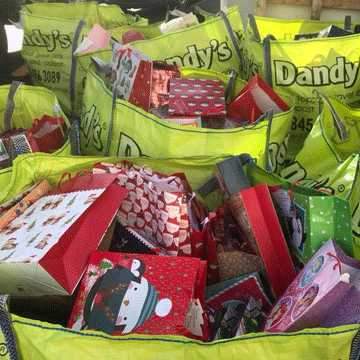 Christmas Present Appeal
Yesterday we were able to drop off more than 20 cubic metre bulk bags of presents to families in need in Chester and North Wales this Christmas!
As with last year, Dandy's Topsoil partnered up with local charity SHARE and local businesses Moneypenny and Cheshire Ice Cream Farm, as well as kind hearted members of the community (special shout out to seven year old Tilly who selflessly requested gifts for homeless children instead of presents for herself at her birthday party this year) to collect new toys, clothing and goodies which have been donated to those finding themselves struggling this year.
We sent one of our 8 wheeler wagons off to collect from Moneypenny and the Ice Cream Farm while the SHARE van loaded up at Dandy's with gifts donated by the public.
First drop off of gifts was to The British Red Cross in Wrexham to distribute to the 50 homeless children under their care this year in North Wales.
Next we were off to Local Solutions in Plas Bellin to drop off gifts for the 40 children with them this year - some of whom had been evcuated from the Gateway to Wales hotel earlier that day after a devastating fire rendered them homeless.
Last stop for us was Save the Family in Waverton where another 30 plus children will now wake up on Christmas morning with gifts, thanks to the kindness of our community of local businesses and generous members of the public!
Save the Family will be distributing the remaining gifts via their outreach team to children living on or below the poverty line - all in all this means we have been able to make sure that over 200 children who may otherwise have received nothing this year will wake up to carefully selected gifts on Christmas morning!