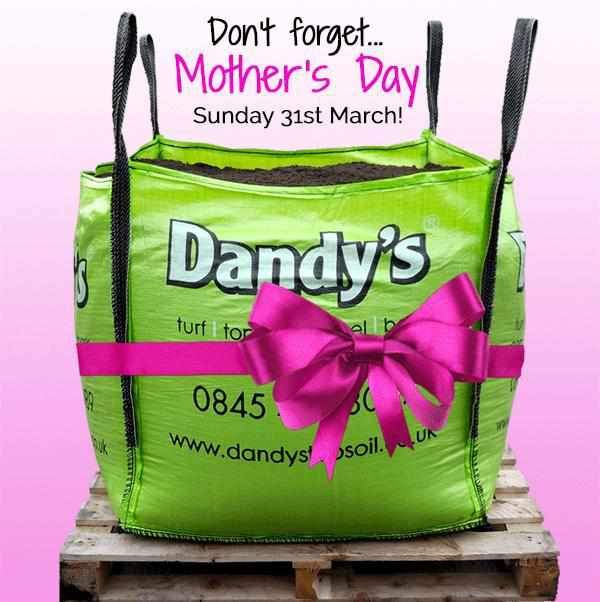 Mother's Day Gardening Gifts...
Mother's Day Sunday 31st March!
Treat your Mum this Mother's day with
10% off
everything for the garden...
USE CODE 
LOVEMYMUM
AT CHECKOUT

Finding that perfect gift can be hard so why not treat her to a garden makeover? 
If your mum loves gardening check out our gardening gift ideas...
Go wild with Wild Flower Seeds...
Everyone loves bright and fragrant flowers in the garden and our 100% Wild Flower seed mixes are both beautiful and super low maintenance.... simply sow in a sandy soil and water when required!  We've introduced a mix especially designed for bees so not only will be growing some pretty flowers you'll also be supporting the local bee population.
Grow Your Own...
There's nothing nicer than eating veg you've grown yourself in your own veg plot. All you need is a few mini sleepers and our award winning VegeGrow Topsoil... (and of course some veg seeds) and give your mum the gift of a constant supply of home grown veggies!
Check list:
Check out our Special Offer Allotment Pack!
.
Get creative with Gravel...


Keep it girly with Staffordshire Pink or add a splash with our Mermaid Mix!  We stock over 24 different gravels and slates, from classic Golden to the more unique... check out our full range here.
Beautiful Beds and Borders...
Take the hard work out of maintaining your (or your mum's) borders with some anti weed prevention membrane and mulch.  There's no point planting beautiful plants and flowers just to allow pesky weeds to creep in... add some membrane around your plants and flowers and top off with some decorative bark, gravel or slate.  It will save you time weeding and keep your borders looking neat and tidy!   If you want to add nutrients to your soil use bark mulch or compost as a soil improver.
Check list: