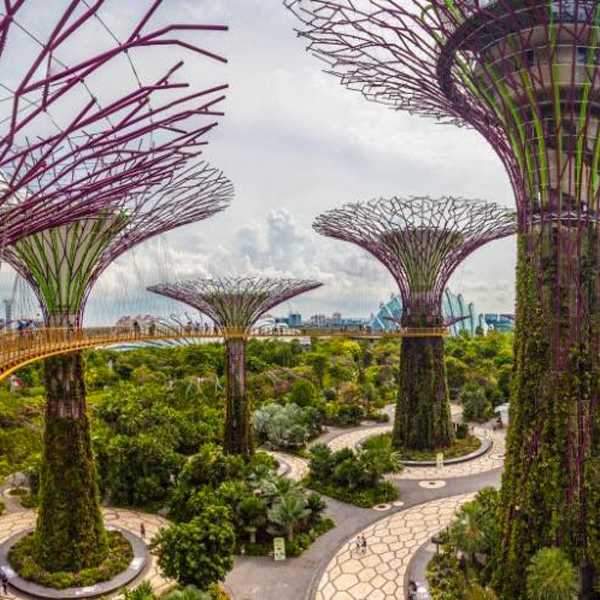 PRESS RELEASE - Supertrees to come to Chester!
These are the plans for the new Supertrees Roundabout (aka Bingo roundabout) in Chester.
We are proud to announce that Dandy's Topsoil & Landscape Supplies have offered to donate £1,500 worth of landscaping supplies to help get things started, we see this as a much needed investment in this part of the local community in Chester.

The 3 purple trees on the drawing are steel sculptured trees, covered in thousands of plants and flowers, they also contain air quality measuring devices which school children and groups will be able to check and work with, the rest of the roundabout (which is pictured as it looks today) will be transformed and re-landscaped to create a wildlife wonderland and a place for the community to enjoy and relax in.


The man behind the project Steve Hughes has already run 7 marathons and in July will be running 200klms in 20hrs on a treadmill inside the new SuperTrees Roundabout to raise money for the project and he's well on his way now with the backing of Chris Matheson MP and CWAC Council, if you or your business would like to support his project please get in touch @ChesterSTrees on Twitter.

The Supertrees are famous at Gardens by the Bay and Supertree Grove, Singapore.  Measuring between 25 and 50 metres tall, these iconic tree-like vertical gardens are designed with large canopies that provide shade in the day, and due to being solar powered come alive with an exhilarating display of light and sound at night.  The ecosystem created by the plants and trees within the Supertrees helps clean the air of pollution and will provide Chester's Bingo roundabout with a welcome area of green and wildlife.