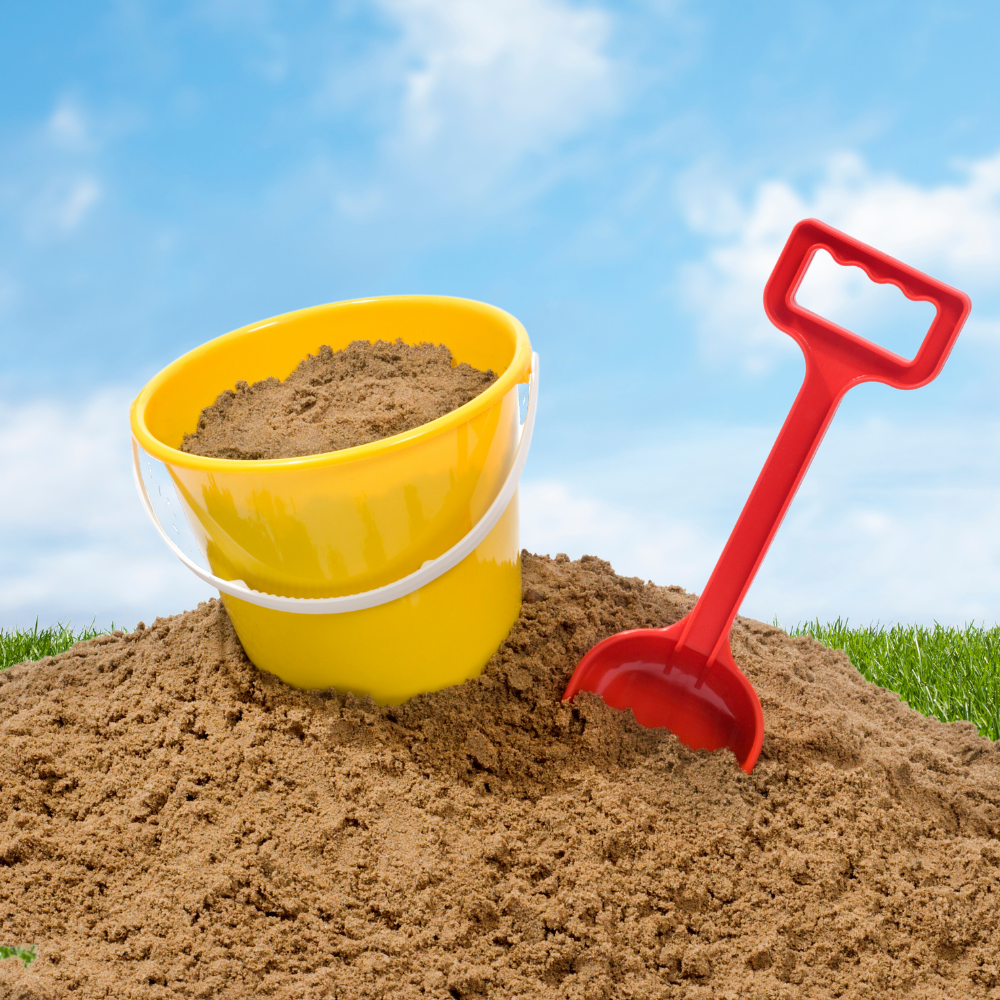 School's out for Summer!
Keep the kids entertained in the garden this Summer Holidays!
Amazing Sand Pits...
Hours of safe, clean (ish!) fun can be had with our tested Play Sand - check out these fab sand pit ideas!
Go all out with a seaside themed area of your garden - simply add some gravel or pebbles around an up-cycled old rowing boat and finish off by filling up with our tested Play Sand.  We love this creative idea!
Keep it simple with a tent that turns into a sand pit!  Perfect for those super sunny days to keep your little out of the sun (or the rain!) and has the added benefit of being portable.  You can collect our Play Sand in handy bags from our Landscape Supplies Center in Chester - only £6 per 25kg bag or 3 for £15*!  Collect from Sealand Road, CH1 6BS or order them here.
Add a gravel section along side your play sand area and create a mini construction site! 
Hopscotch Path...
Make a simple pathway (or transform an existing one) using our tested Play Bark or Hardwood Path Chips - add some small flags with painted numbers on and away you go!  Hours of fun...
Mud Kitchen...
Let the kids get messy with their very own 'Mud Kitchen'!  Make beautiful mud pies with our screened topsoil and compost!
Grow Your Own...
There's nothing more rewarding than growing our own organic fruit and veggies from scratch, then enjoy eating them too!  Our VegeGrow Topsoil is perfect for teaching them the basics and tend to their very own veggies.
Make an easy Herb Planter...
This fun planter is super easy to make and maintain, a great hobby for older kids and can be used for herbs, plants, veg and fruits!  If you order a palletised delivery from us you can recycle the pallet that your bulk bag sits on, making this a cheap and cheerful project.
You will need:
1 x pallet
1 x anti-weed membrane (or cut up your empty bulk bag)
staple gun
25kg bag of compost or topsoil
Black paint & chalk
Herbs, Veg Seed or Flowers
Step 1 - Stand your pallet upright in it's final place.
Step 2 - Use a staple gun to secure anti-weed membrane/bulk bag in-between the slats, creating a trough for your compost. 
Step 3 - Paint or decorative your pallet
Step 4 - Fill troughs with compost.
Step 5 - Add your plants, flowers, herbs or veg seed! 
Watch the flowers grow...
Teach the importance of wildlife conservation and create an area for birds, bees and hedgehogs.  Dandy's Wildflower Seed mixes are super easy to grow and maintain and help conserve the butterflies and bees too!
Our Bee Dandy seed mix contains a gorgeous mix purple flowers that attract bees and other pollinators.
Start a Hedgehog watch...
Hedgehogs start to show themselves during the late summer evenings   Help them out with a wildlife corner - all you need is a quiet spot that is well sheltered and won't be disturbed.  A simple pile of sticks, leaves and twigs, or a propped up old pallet, can create a cosy hedgehog home.  Our Landscaping Bark is perfect as the large pieces will protect them from the elements, keeping them cool whilst also attracting small bugs for them to munch on!  Add a small bowl of water and meat based dog or cat food will keep them going through the hot days.  
Always watch wildlife from afar, our presence can disturb them and cause them to move on, often abandoning young and putting themselves in danger of predators and roads.
*Prices correct as of 11th July 2023.