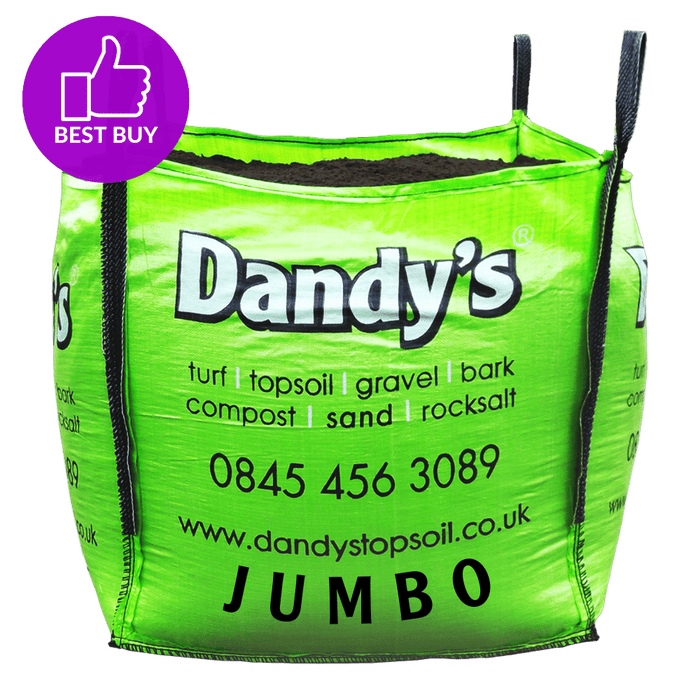 Dandy's Organic Peat Free Summermix Compost Garden Mulch
Save

18

%
Save

18

%
Original price
£3.99
-
Original price
£169.94
Dandy's Peat Free Summermix Compost - The Perfect Boost for Your Garden during hot summer months.
Transform your garden into a thriving oasis with our premium Summermix Compost. Designed to meet the unique needs of your plants during the warm summer months, this carefully crafted blend by Dandy's is the secret to achieving lush, vibrant growth.
Read more...
Why choose Dandy's Powerful SummerMix Compost?
Unleash Nature's Nutrients: Our compost is enriched with a balanced combination of organic matter, essential minerals, and beneficial microorganisms. This powerful blend replenishes vital nutrients in your soil, ensuring optimal plant health and vigorous growth.

Beat the Heat: With its special formulation, Summermix Compost helps retain moisture in your soil, allowing your plants to thrive even during scorching summer temperatures. Say goodbye to wilting flowers and hello to flourishing foliage!

Sustainable Gardening: By choosing Summermix Compost, you're making an eco-friendly choice. Our compost is created using recycled organic materials, reducing waste and minimising environmental impact. Feel good about your garden while helping the planet.

Versatile Applications: Whether you're nurturing a vegetable patch, flower bed, or a beautiful lawn, our Summermix Compost is a versatile addition to any gardening project. Its fine texture and easy workability make it ideal for spreading, planting, and potting.

Results You Can See: Experience the difference with Summermix Compost. Watch as your plants burst with vitality, producing bountiful harvests, and stunning blooms. 
Dandy's Peat Free Summermix Compost Garden Mulch is the perfect blend of rich, screened organic compost and composted bark mulch fines - making it super easy to work with and full of moisture retaining properties.  It is packed full of nutrients ideal for plants, flowers or veggies and can be used any time during the summer months.
Allow the compost to do the hard work and use as a mulch over your existing borders to replenish the soil or gives great results when mixed into new topsoil too!  We advise giving your borders a good soak first before laying down as a mulch. 
We can supply you with 3 sizes of bulk bag:
Jumbo Bulk Bag which contains approx 1000ltrs (one cubic metre)
Standard Bulk Bag contains about 750ltrs (same as most builders merchants)
Half Bulk Bag contains approx 500ltrs
Small Handy Bags are approximately 50ltrs and the perfect option if you want a small quantity or if you have access issues and will need to carry through your house or over any walls etc.
Delivery Information

Standard Delivery is currently between 3 - 15 working days.

Next Working Day may be available depending on your location; please select an option at the checkout (this will vary during Christmas and over bank Holidays).

We use a variety of delivery vehicles and haulage firms to complete our deliveries.

If you live in or near Chester, we'll deliver to you ourselves with a HGV crane, if you live elsewhere in the UK we'll use a pallet network who will use a manually operated pallet truck to move the pallet of bag(s) to the kerbside or onto a level, solid surface such as a tarmac drive (not gravel or grass sorry).

Shipping is free to Chester and some North Wales postcodes - outside of this area prices start at £19.95.

If you have any questions or if you have tight or restricted access, just give us a call on 01244 280008 or send images to sales@dandys.com
Samples

Samples are sent with Royal Mail 2nd class service so please allow 3 to 5 working days (please allow extra during Royal Mail Strikes).

Samples are chosen at random and naturally occurring products may vary slightly in shade and particle size, from load to load.

This is a small amount of product that will fit in your hand, approx 100gms per sample.  
Loose tipped bulk loads

Need a full wagon load? Please fill in a form here and we'll will get you a quote.
Product Disclaimer

Weeds

We do not chemically treat our products for weeds. Weeds thrive in warm, wet weather and especially in very fertile soils and composts like our own. Although every care is taken to remove weeds during our screening process we can not guarantee that weed seeds are not present in the soil or compost that you receive. To keep your topsoil organic we suggest pulling up common weeds, when and if they appear, instead of using chemical weed-killers. Or purchase some of our anti-weed prevent membrane and some gravel or mulch, for an easy weed-free garden!

Gravel/Stone Size & Colour

Images are for representation only.  All products that Dandy's supplies are naturally occurring products and may have slight variations in colour, size and content, individual rocks, stones or cobbles made be broken or misshaped because of this. Sizes of products specified are approximate and can vary.  Naturally occurring products such as slate, natural stone paving or gravel are sourced from quarries and so can often differ in appearance slightly from load to load.