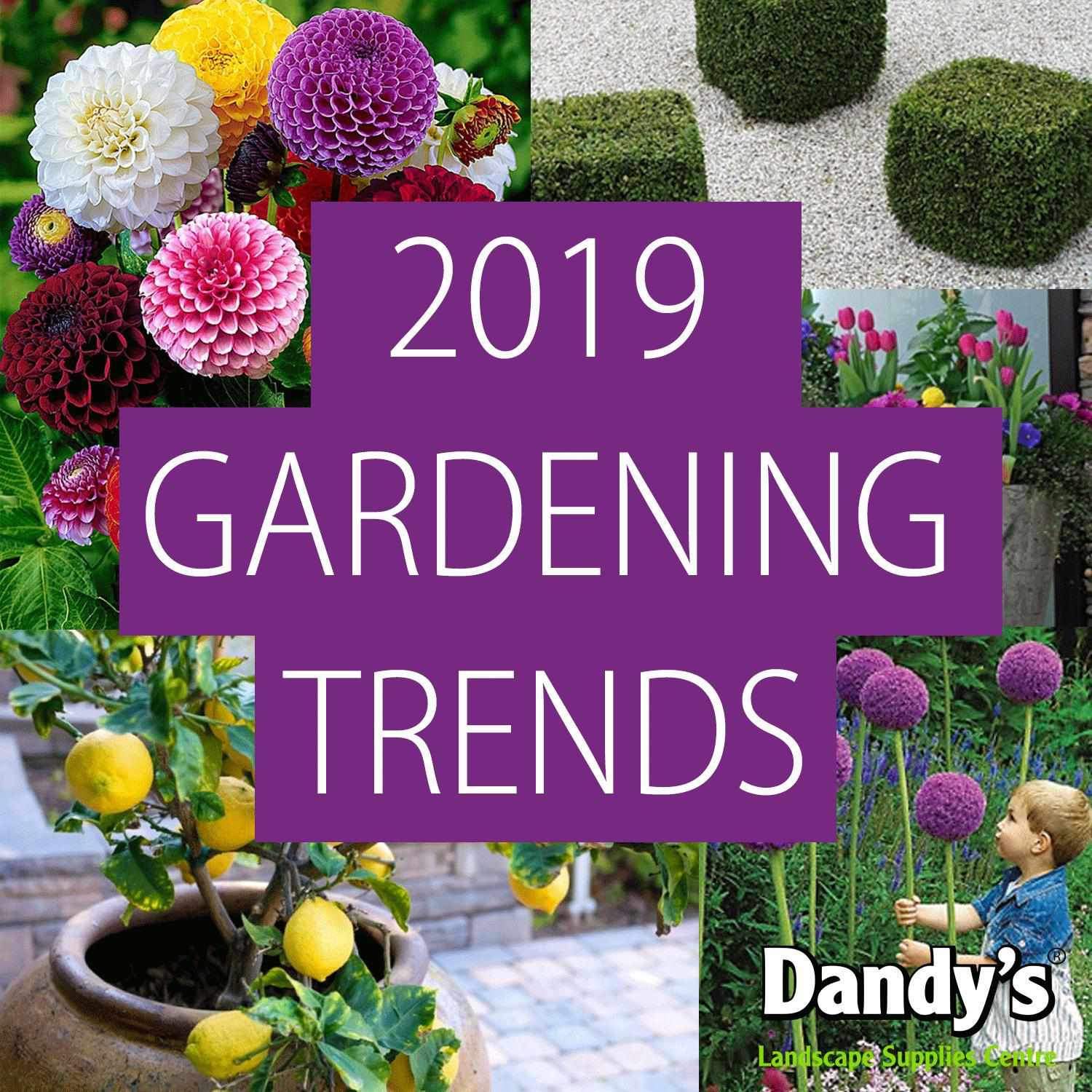 2019 Gardening Trends
Here at Dandy's we like to be one step ahead of the gardening trends, so here's our prediction for 2019...
Pots, pots, pots...
There are many advantages to growing plants in containers and pots and this trend is becoming more and more popular each year.  As our gardens become smaller (or non-existent) planting into pots and containers is the quick and easy way to have plants, flowers and veggies.   Our Multi Purpose Topsoil is perfect for starting you off, topping up existing pots or for transfer.

Virtually eliminate weed problems.

Mobile plants gives more control over moisture, sunlight & temperature.

Plant veggies, plants and flowers in a small space.

Attractive designs - all colours, styles and sizes!

Ideal for small spaces such as balconies.

Re-design your garden easily by rearranging your pots and planters.
Trendy Topiary...
Topiary will be making a massive come back this year.  The age old art of training and trimming perennial plants is now back in fashion with new modern styles and twists on the classic shapes.  Cubes, twists and stars will soon be seen around UK gardens!
Evergreen topiary comes alive in the winter months and will adds depth and texture to your garden all year round.  Box, yew and holly all provide a great base layer.  Traditional topiary hedging is ideal for outlining an area in your garden as it provides strong horizontal lines and will look great against the shape of your lawn or seating area. At Dandy's we love the new stars and cubes for a fun twist on the classic!  If you're not exactly Edward Scissor Hands we suggest buying ready made topiary bushes and keep on top of the trimming.
Grow Your Own Fruit...
'Grow Your Own' veg has always been popular but not as many new gardeners know how easy it can be to grow tasty fruit and berries.
With the rise of veganism, and slightly warming springs and summers in the UK, we are all turning our attention to growing more exotic fruits in our own gardens, balconies and patios.
Growing fruit is easy as you don't need as much space and can often pick the fruit straight from the tree or plant when you recognise it's ready for harvest.  Fruit can be eaten without being cooked, on it's own and is enjoyed by children, something we can't always say about our sprouts or leeks!
Dandy's love:
Strawberries - great in hanging baskets or in strawberry pots.
Apples - you can buy young trees ready to be planted or keep in the pot.
Raspberries - love growing in raised beds.
Blueberries - choose a self-pollinating variety so you only need one plant to produce fruit.
Gooseberries - low maintenance and hardy. 
Lemons - best grown in a container in full sun and kept in a greenhouse through the winter.
Hanging baskets filled with strawberries, blueberries, blackberries and raspberries will see you through the summer months into the late autumn - ideal if you have just a small balcony or patio.
Things you'll need: containers/pots, fruit plants or seeds, Dandy's VegeGrow Topsoil, Anti-weed Membrane, Mulch, Gardening Tools and Gloves.
Big and Bold...
Some landscape designers predict bold shapes, clashing colours and the introduction of large leaved plants.
Add bedding plants to bright coloured planters - Pompon Dahlias, Canna, Bananas, Blue Honeywort, Korchia Ball and Giant Allium Flowers take centre stage.
Our Dandy's Bordermix Topsoil is perfect for acid loving species.
Gabion Baskets Everywhere...

Garden Gabion Baskets are a cheap and effective way to make amazing garden features in any garden.  Fill with decorative rockery stone, cobbles and logs for varied looks!  Can be used in many garden features such as retaining walls, beds, planters, water features benches and much more...
Your can buy empty Gabion Baskets here.