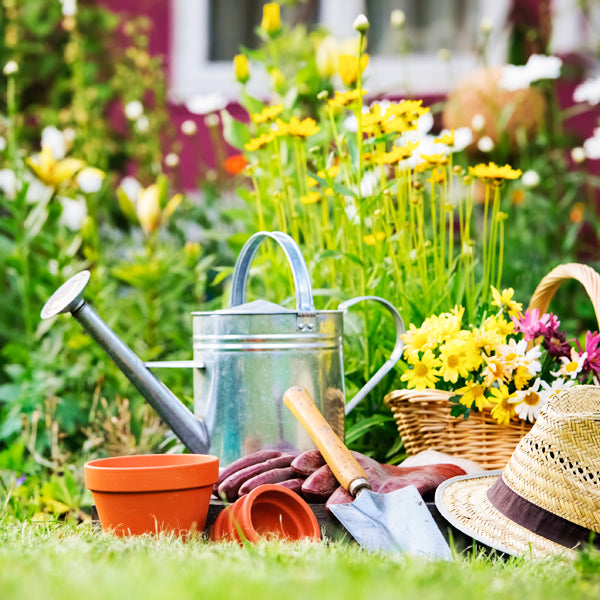 Summer Ready Gardens
Get your garden ready for Summer with our gardening tips and suggested landscaping products.
Keep the kids busy...
Have hours of safe, clean (ish!) fun with our Tested Play Sand - check out these fab sand pit ideas!
Go all out with a seaside themed area of your garden - simply add some gravel or pebbles around an up-cycled old rowing boat and finish off by filling up with our tested Play Sand.  We love this creative idea!
Add a gravel section along side your play sand area and create a mini construction site! 
Feed the borders...

As soon as the weather heats up your borders and planters will soon start to dry out (if you're not constantly watering them).  Adding a moisture retaining compost, such as our exclusive Dandy's Summermix Compost, will improve soil structure as well as adding nutrients and help hold on to that much needed water.
Water, water, water...

Looking after your lawn in the heat may seem daunting but with the right care and attention you can keep your lawn looking lush all year round.
With the warmer weather comes the risk of your lawn becoming dehydrated. Watering early in the morning or late in the evening are the best times as the moisture is likely to soak into the grass rather than evaporate during the mid day heat.
You may now notice you need to increase the regularity with which you mow your lawn!  If the conditions are ideal for growth, you may need to cut twice a week to keep it looking good.  Don't be tempted to cut the lawn too short when it is hot as this can allow the water to evaporate from the soil resulting in damaging the lawn. If your lawn is looking straggly, resist the urge to over fertilise - simply leaving your grass clippings on the lawn after mowing can replenish the nutrients.
Say no to weeds...

There is nothing worse than breaking your back in the blazing sun removing weeds... prevention is key!  Adding an Anti-weed Prevention Membrane is quick, easy and cost effective.  Simply cut the membrane around your existing plants and flowers for a snug fit and top off with gravel or garden bark mulch for a tidy finish.
If you don't fancy using membrane in your garden (some varieties are made from polypropylene, but we do stock a fabric one) you can simply go straight to adding an inch or 2 of gravel or bark.  The added benefit to adding a bark mulch is that it will also add nutrients to the ground as it rots down, keeping flowers warm in winter and keep the moisture in during the summer! 
Adding a layer of gravel will give your garden a sleek, designer finish that you can colour co-ordinate with the rest of your garden.  At Dandy's we have over 30 different colours, shapes and sizes of decorative aggregate in stock!  Check them out here.
Welcome birds, bugs and wildlife...

Attracting lots of birds and wildlife into your garden is rewarding and easy.
Bees love purple so grow lots of purple plants, such as lavender, knapweed, buddleja and foxglove.  Our 'Bee Dandy Wildflower Mix' is the perfect mix of these types of flowers and is really simple to use and maintain!
Add an insect house to your garden to provide nesting sites for solitary bees and insects.  Make your own but ensure it has a waterproof roof, or invest in a ready made bee hotel!
When it comes to birds it's simple - all you need is a bird table or feeders and a decent quality seed. The pigeons may arrive first but soon you'll be seeing Finches, Blue Tits, Wrens and maybe the odd Woodpecker too.
Don't forget to put out water - be careful though as bees drown in water bowls, so fill the bowl with pebbles or marbles to provide a surface for them to drink from.
Outdoors dining...
Make the most of the long summer evenings with some alfresco dining!
Even despite our lovely, unpredictable British weather we are a nation embracing the Mediterranean lifestyle.  Outdoor entertaining will be a key for Summer 2019 – perfect if you lack space in your kitchens or dining room, as you can move entertaining friends and family outside. Create a dedicated area with paving or gravel ready for furniture and a barbecue.  Our stunning range of natural stone paving is the perfect investment into alfresco living.  If you are on a tighter budget check out our gravel and slate range!
Create cost effective and easy outdoor furniture with Dandy's 'nearly new' used Euro Pallets - perfect for outdoor socialising!  
Build your own seating, tables, bar and planters.  
Dress up your pallets with cushions, an outdoor rug and some lighting...
Pallet bar ideas - perfect for some at home entertaining...
Fancy getting really creative? Check out this amazing swing seat!
(Pallet images for representation only.  Images sourced via Pinterest.)
Use an old pallet to make your own Herb, Veg or Flower Garden!