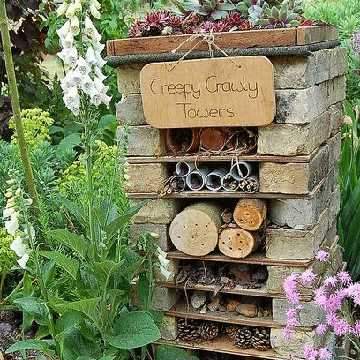 Wildlife Gardening with Dandy's Topsoil
With such a strong focus on the environment and with eco-friendly, organic gardening becoming so popular, wildlife gardening is on the up and more of us Brits are looking to attract the birds and the bees to our gardens. With numbers of bees dropping at an alarming rate it is more important than ever that we all try to create a little safe-haven for the various critters we share the planet with.
With this is mind, we've been hitting the old Pinterest account hard again and this time we've gathered together a board full of fab ideas to help attract wildlife into your garden.
One of our favourites is the bug hotel which can be made in all manner of shapes and sizes using recycled materials such as logs, old pallets, bits of pipe, plant pots and the like – only your imagination sets a limit. Well your imagination, space and inclination for how many and what bugs you want to attract. We're not massive fans of the eight-legged creepy crawly types in the Dandy's office so you won't be seeing any spider web poles in our gardens!
Check back for our take on a bug hotel at Dandy's HQ soon!