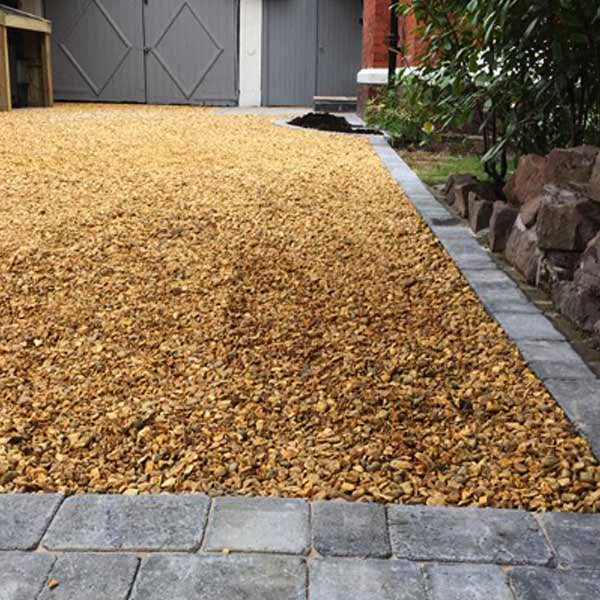 How To Lay a Gravel Driveway
A gravel driveway is cheap, easy to create and easy to maintain!  Gravel for driveways is also still very popular. As well as the benefits listed above there is such a huge range available that you can have a colour scheme to match or compliment your brickwork and plants creating a beautiful front garden. 
A graveled drive allows rainwater to filter through to the earth (a fabric membrane will also allow water to soak through). If you have paved or concreted driveway then that rainwater has no where to go and will run off into the road and gutters. In periods of prolonged heavy rain this run off will be adding to the problem of flooding gutters and sewers on roads. 
Many councils have recognised this and so it is highly likely that you will have to obtain planning permission for a paved driveway in the future. Planning permission is a pricey and long process so take the easy option and go for the decorative gravel for driveways!
So you've decided that you would like a low maintenance, attractive finish to your driveway; how do you go about it?
1. Choose your gravel
Ideally you'll want 20mm gravel as this is small enough to walk on and large enough not to get stuck in tyre treads or scatter easily.  We stock over 30 different types of gravel chippings and crushed slate – some of the most popular are Golden Gravel, Staffordshire Pink or opt for a Welsh Crushed Slate 20mm which will lie a bit flatter.
As a rule of thumb; 1 tonne of gravel or aggregate will cover approximately 25m² at a depth of about 25mm (1 inch). Dandy's sell most of our aggregate products in one tonne Jumbo Bulk Bags or in small, easy to carry 25kg bags.
 You can also use Hoggin Self-Binding gravel to make a compact, smooth driveway; check out our How To Guide here.
2. Prepare the ground
You will want a flat, level base of earth or Crusherrun to work with so you'll need to clear the area for your driveway of any weeds, paving slabs, block paving etc.  It is not recommended to lay straight onto slabs as gravel is going to move around if you do. Dig out any grass, weeds and bricks.

Crusherrun is a brilliant foundation material for any building or landscaping project. As it is a chunky 40mm limestone, crushed down to dust it forms a level base when the dust settles between the larger hunks of gravel; ideally you'll want to spread it and whack it down with a roller or similar to get a smooth surface.
Go for this if you've an uneven surface or have pot holes to fill in – you'll want approximately 2 inches of gravel so if you've more to make up you'll need the Crusherrun to raise the level of your driveway.  Each tonne will cover about 20m² at a depth of 25mm (1 inch).
3. Stop weeds
Lay down a heavy duty anti-weed membrane; this will ensure that you won't have any pesky weeds poking up through your finished driveway.  We stock two different sizes of
membrane
; 20m2 and 50m2.  Make sure you use some of our
fixing pegs
to keep it in place!
 5. Spread your gravel

When ordering your gravel you can choose handy bags, bulk bags of tipped loose.  If you opt for the bags you'll need a wheelbarrow to help you move the gravel around, if it is tipped loose you may be able to have the gravel chippings tipped straight onto the area! 
Spread your gravel over the entire area ensuring an even coverage.  Use a rake or spade to help you level out your stone.
6. Get the hose out
 When your gravel arrives it may be dusty as non of our aggregates are washed at the quarry; this is better for the environment and more economical.  If you wish to see the true colour of our new gravel or slate chippings simply run the hose over your driveway, or save yourself the effort and wait for the rain!
Now... sit back and admire your work :)
Gravel and Hardcore (crusherrun) calculator:
Either give us a call on 01244 280008 with the measurements of your driveway or use the below calculations…
Metres – length x width x 0.04 = tonnes of gravel required.
Multiply again by 1.25 for your Crusherrun.

Feet – length x width, divide by 9, divide by 1.2 x 0.04 = tonnes of gravel required.
Multiply again by 1.25 for your Crusherrun.