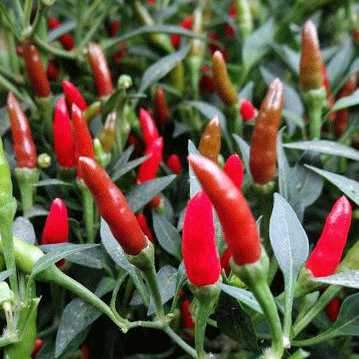 Kitchen Gardener - Chilli Jam Recipe
Why not try your hand at some of our tasty home grown produce inspired recipes. First up is a spicy Chilli Jam. Chilli plants are pretty easy to grow, a pot filled with a nice free draining soil and compost blend - like our Vegegrow Topsoil - is perfect.
Chilli Jam Recipe
Ingredients…
200g fresh red chillies – (we like a mix of scotch bonnet, jalapenos etc., just watch the heat) de-seeded and roughly chopped
150g fresh red peppers – de-seeded and roughly chopped
1kg jam sugar
500ml white wine vinegar
First things first, make sure your jam jars are sterilised – you should get about 1000ml of finished product so five little 200ml jars will be ideal, or four 250ml.
Pop your chillies into a food processor and pulse until finely chopped – add the red peppers and continue to pulse until everything is teeny tiny.
Put the sugar and vinegar into a decent sized pan and leave on a low heat – no need to stir, just let the sugar dissolve.
Once the sugar has dissolved, add the chilli pepper mixture to the pan, bring it to a boil and then leave it to boil for between ten and fifteen minutes until starting to thicken and become syrupy.
Take your pan off the heat and allow the mixture to cool off for around 45 minutes before spooning into your jars and sealing tightly.
Finish off with a label or tag of your choice and keep it in your kitchen cupboard, or fridge once opened, and enjoy with a nice cheeseboard, some sliced meats or in a sandwich!