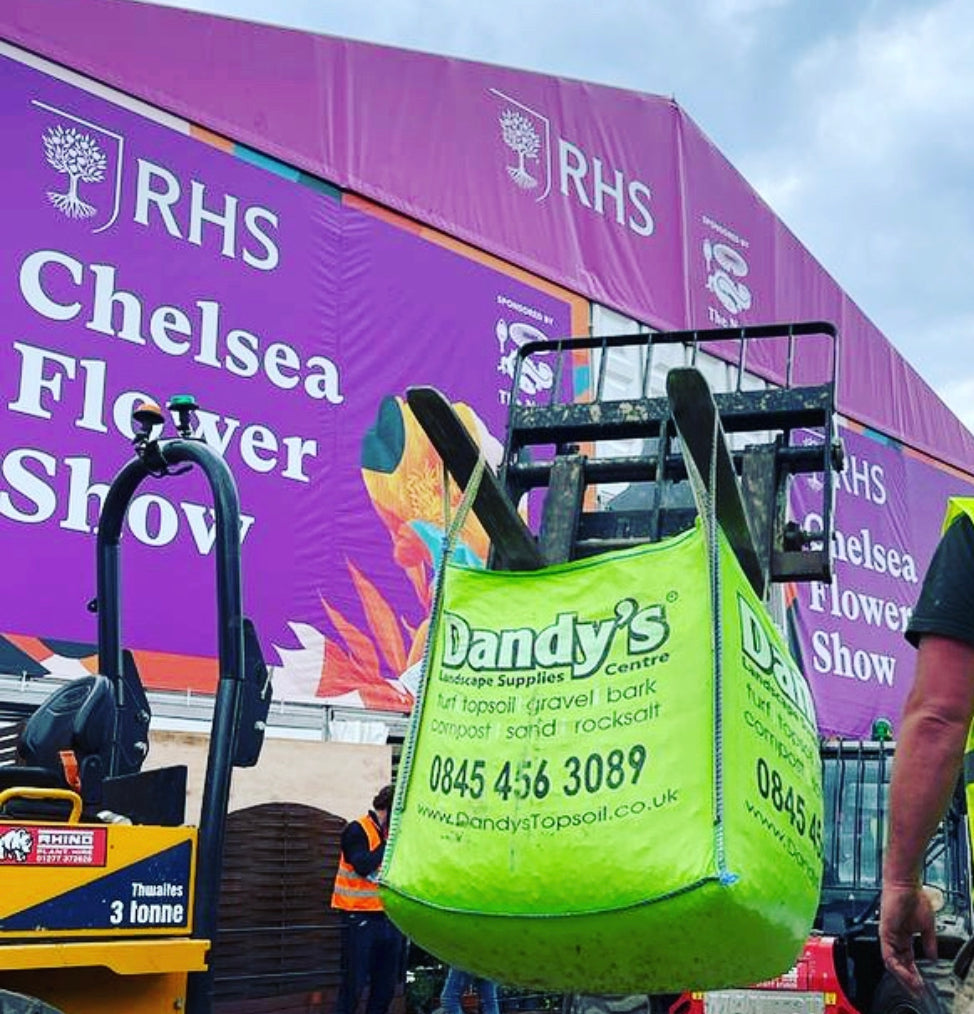 23% DISCOUNT CODE to celebrate Dandys at RHS Chelsea 2023
Dandys.com Presents a Spectacular Offer: 23% Discount on Landscape Supplies in Celebration of RHS Chelsea Flower Show 2023 Success
[NORTH WALES, 22nd May 2023] – Dandys.com, a leading provider of top-quality topsoil and landscape supplies, is thrilled to announce an exclusive offer to commemorate their landscape products being featured by renowned award-winning landscape and garden designers at the esteemed RHS Chelsea Flower Show 2023. As a gesture of gratitude to their valued customers and gardening enthusiasts, Dandys.com is extending a remarkable 23% discount on all landscape supplies for the period the show is on Monday 22nd - Saturday 27th May.
The RHS Chelsea Flower Show, widely regarded as one of the most prestigious gardening events globally, showcases exceptional garden designs and innovation in landscaping. Dandys.com takes immense pride in the fact that their landscape supplies have been handpicked by talented designers whose creations have captivated both the judges and visitors alike.
"We are absolutely thrilled and honored to have our quality topsoil and landscape supplies chosen by some of the most talented designers at the RHS Chelsea Flower Show," said Adam Dandy, CEO of the long established family business Dandys.com. "To celebrate this remarkable achievement, we want to extend our appreciation to our customers by offering an exceptional 23% discount on all our products. This is a limited-time opportunity for gardening enthusiasts to acquire top-quality materials at unbeatable prices."
Dandys.com offers a comprehensive range of landscape supplies, including but not limited to decorative aggregates, quality organic soils and composts, paving stones, turf, fencing and even giant concrete interlocking blocks. With an unwavering commitment to quality, Dandys.com ensures that all their products meet the highest British and industry standards, making them the go-to choice for professional landscapers and gardening enthusiasts alike.
The 23% discount promotion will commence on Monday 22nd May at 11pm and conclude on Saturday 27th May at 11pm. To benefit of this remarkable offer, customers can visit Dandys.com and use the promo code DANDYS@CHELSEA23 during checkout. The discount is applicable to all landscape supplies and will be automatically deducted from the total purchase price.
"We want to express our gratitude to our customers for their continued support and trust in our products," said Amanda Arnold, Director of Marketing at Dandys.com. "This special offer is a token of our appreciation and an opportunity for individuals to transform their outdoor spaces like those prestigious gardens at the RHS Chelsea Flower Show, with premium landscape supplies at an incredible discount."
To stay updated on the latest news, offers, and updates from Dandys.com, customers are encouraged to follow the company's social media channels and subscribe to their newsletter through the website.
For media inquiries, please contact:
Amanda Arnold
Director of Marketing
Dandys.com
amanda@dandys.com
01244 280008
About Dandys.com:
Dandys.com is a leading provider of premium landscape supplies, offering an extensive range of products to enhance and transform outdoor spaces. With a commitment to exceptional quality and customer satisfaction, Dandys.com has become a trusted name in the landscaping industry. Whether it's decorative aggregates, high quality top soil, paving stones, turf, or rock salt, Dandys.com provides top-notch materials to help customers create stunning landscapes.