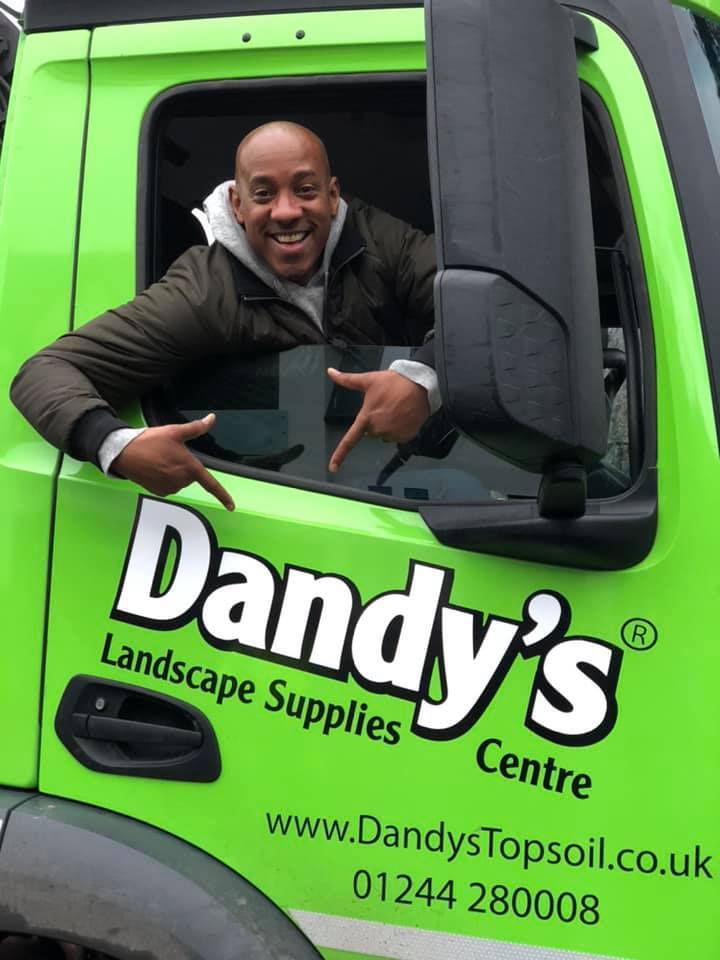 A Dandy makeover for Dion Dublin...
Homes Under The Hammer presenter and former Aston Villa Footballer Dion Dublin has received a Dandy garden make-over!
Mr Dublin's driveway and rear garden has had a complete make-over using Dandy's quality products and with the help of our wonderful landscapers, Cleaner Gardens Ltd.  He opted for a beautiful sprawling lawn, (perfect for his very own football pitch!) and a low maintenance golden gravel driveway.
BEFORE
AFTER
To target the bad drainage in the lawn area land-drains with drainage gravel were installed.  The area was then leveled off with 40 tonnes of our amazing new TurfSand Mix which soaked up all the remaining water, creating the perfect surface for laying the turf.
Over 800 m2 rolls were laid down to create his amazing new lawn, even working by digger light when the sun had gone down! Our stunning NEW Premium Lawn Turf will be available from 2020 at Dandy's, Chester, or online www.Dandys.com
For Mr Dublin's driveway 60 tonnes of Golden Gravel 20mm was tipped - this gravel is perfect for driveways as it doesn't spray around or feel loose underfoot.  It brighten ups any area and is completely timeless.
To celebrate Mr Dublin took a ride in our new Dandy's hiab crane wagon "Lewis" (named after owner Adam dandy's son) and posed for some great photos; we think he would make a great delivery driver! It has been an absolute pleasure to work for Mr Dublin's beautiful family and create and deliver their new garden and driveway!