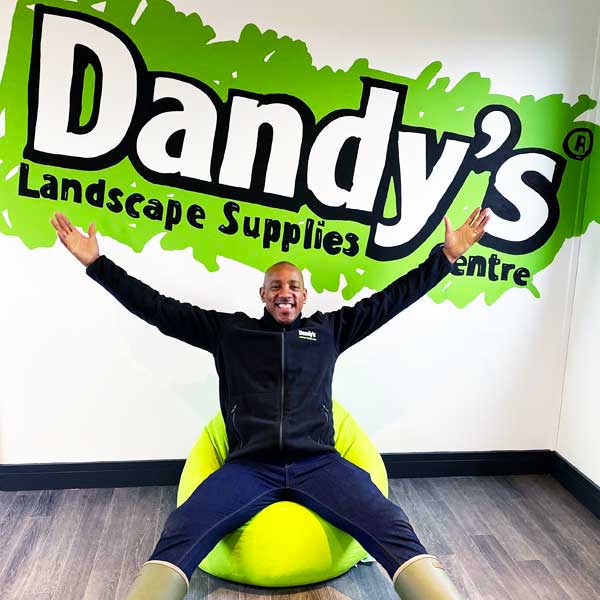 Dublin down at Dandys
Ex. England and Manchester United ace, Dion Dublin, was yesterday down at Dandy's Topsoil & Landscape Supplies Centre on Sealand Rd, Chester filming on location, as part of his new role as Brand Ambassador for the long-established family business.
A regular on BBC Sport's Match of The Day and presenter of Homes Under The Hammer, Dion showed he doesn't mind getting his hands dirty and got stuck in with helping his new teammates at Dandys.com.
Whilst on site Dion also offered to help with packing food at the company's new #Foodbank, which they have set up in partnership with Flintshire Foodbank to help local families who are struggling to cope at the moment.
In a poignant tweet later to fellow ex. Footballer, Trevor Sinclair, Dion commented about his work at Dandy's Foodbank saying, "we've had our time, now it's our turn to give our time!".
Owner of Dandys.com, Adam Dandy said, "I met Dion when Dandy's supplied him with our quality Platinum
Lawn Turf
, organic
Lawnmix Topsoil
, 
PlaySafe Playground Bark 
and
Decorative Aggregates
for his garden, we hit it off straight away!
Dion is one of the kindest most genuine people I've ever met, he's one of the good guys and always cares about everyone else before himself, qualities that we hold dear as a team at Dandy's Landscape Supplies, that's why as we take Dandys to the next level with our ambitious growth plans, we feel beyond privileged to have Dion onboard as our Brand Ambassador".
Yesterday the company tweeted a sneak peek of one of the new videos which showed the ex. England international player falling backwards into a bay packed full of Rock Salt! Follow along with Dion's antics at Dandy's via their
Twitter
,
Instagram
, Snapchat and
blog
hosted on Dandys.com.