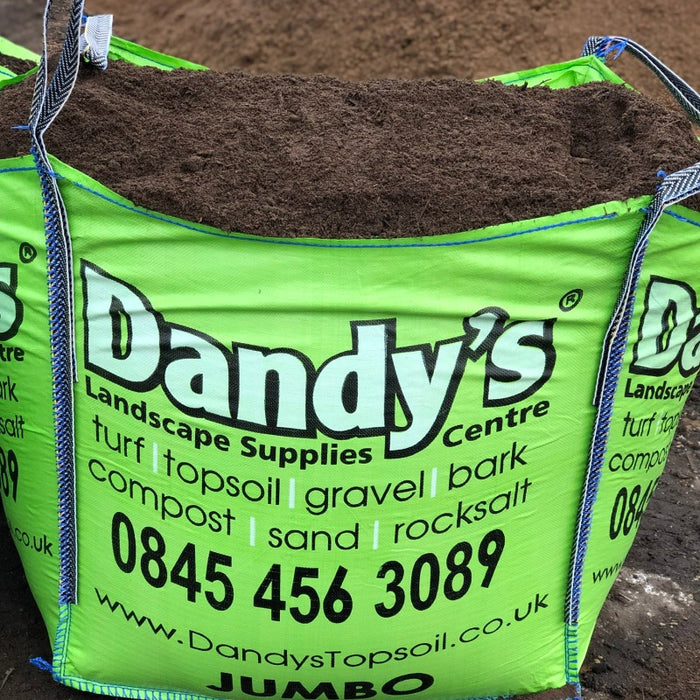 Dandy's Organic Peat Free Multi Purpose Topsoil
Save

46

%
Save

40

%
Original price
£3.99
-
Original price
£259.94
Introducing Dandy's Super Saver Multi-Purpose Topsoil - Your Key to Landscaping Success
Are you ready to transform your outdoor space into a stunning landscape? Look no further than our Super Saver Multi-Purpose Topsoil. This exceptional product is your ultimate ally in achieving picture-perfect gardens, lush lawns, and thriving plant beds.
Read more...
Why choose Dandy's Super Saver Multi-Purpose Topsoil?
Superior Quality: Our topsoil is carefully sourced from nutrient-rich soils, ensuring premium quality that surpasses the competition. With its finely screened texture, you can expect a consistent blend that promotes optimal plant growth and healthy root development.

Versatile Applications: Whether you're starting a new garden, levelling your lawn, or revitalising existing plant beds, Super Saver Topsoil is your all-in-one solution. It provides the perfect foundation for sowing seeds, laying turf, or creating stunning flower beds. Experience the ease and convenience of a versatile soil blend that suits all your landscaping needs.

Nutrient-Rich Formula: Unlock the full potential of your plants with our nutrient-packed topsoil. Enriched with essential minerals and organic matter, it provides a natural boost to your soil's fertility. Say goodbye to lacklustor growth and hello to thriving plants that will impress your friends and neighbours.

Easy to Use: Our Super Saver Multi-Purpose Topsoil is designed with your convenience in mind. Its lightweight composition makes it effortless to handle and spread across your desired area. Save time and effort while achieving professional-grade results with minimal hassle.

Value for Money: We understand the importance of quality and affordability. That's why our Super Saver Topsoil offers exceptional value for your investment. Get more bang for your buck without compromising on the quality of your landscaping projects.
Elevate your outdoor spaces to new heights with Super Saver Multi-Purpose Topsoil. Join countless satisfied customers who have experienced the incredible difference our topsoil can make in their gardens.
Don't miss out on this opportunity to create the landscape of your dreams. Order now and unlock the secret to successful gardening and landscaping!
Dandy's 'Multi Purpose Topsoil' is a blended loam of 20mm organic screened, peat free, virgin topsoil premixed with our screened black Organic Compost.  This is a great mix for growing herbs and vegetables, you can use it under a lawn and it's great for in beds, borders and pots too. Also a cheap and cheerful choice for filling in ponds and the like.
We can supply you with 3 sizes of bulk bag:
Jumbo Bulk Bag which contains approx 1000kg (one tonne)

 

*BEST BUY*
Standard Bulk Bag contains about 750kg (same as most builders merchants)
Half Bulk Bag contains approx 500kg
Small Handy Bags are 25kg and the perfect option if you want a small quantity or if you have access issues and will need to carry through your house or over any walls etc.
Delivery Information

Standard Delivery is currently between 3 - 15 working days.

Next Working Day may be available depending on your location; please select an option at the checkout (this will vary during Christmas and over bank Holidays).

We use a variety of delivery vehicles and haulage firms to complete our deliveries.

If you live in or near Chester, we'll deliver to you ourselves with a HGV crane, if you live elsewhere in the UK we'll use a pallet network who will use a manually operated pallet truck to move the pallet of bag(s) to the kerbside or onto a level, solid surface such as a tarmac drive (not gravel or grass sorry).

Shipping is free to Chester and some North Wales postcodes - outside of this area prices start at £19.95.

If you have any questions or if you have tight or restricted access, just give us a call on 01244 280008 or send images to sales@dandys.com
Samples

Samples are sent with Royal Mail 2nd class service so please allow 3 to 5 working days (please allow extra during Royal Mail Strikes).

Samples are chosen at random and naturally occurring products may vary slightly in shade and particle size, from load to load.

This is a small amount of product that will fit in your hand, approx 100gms per sample.  
Loose tipped bulk loads

Need a full wagon load? Please fill in a form here and we'll will get you a quote.
Product Disclaimer

Weeds

We do not chemically treat our products for weeds. Weeds thrive in warm, wet weather and especially in very fertile soils and composts like our own. Although every care is taken to remove weeds during our screening process we can not guarantee that weed seeds are not present in the soil or compost that you receive. To keep your topsoil organic we suggest pulling up common weeds, when and if they appear, instead of using chemical weed-killers. Or purchase some of our anti-weed prevent membrane and some gravel or mulch, for an easy weed-free garden!

Gravel/Stone Size & Colour

Images are for representation only.  All products that Dandy's supplies are naturally occurring products and may have slight variations in colour, size and content, individual rocks, stones or cobbles made be broken or misshaped because of this. Sizes of products specified are approximate and can vary.  Naturally occurring products such as slate, natural stone paving or gravel are sourced from quarries and so can often differ in appearance slightly from load to load.