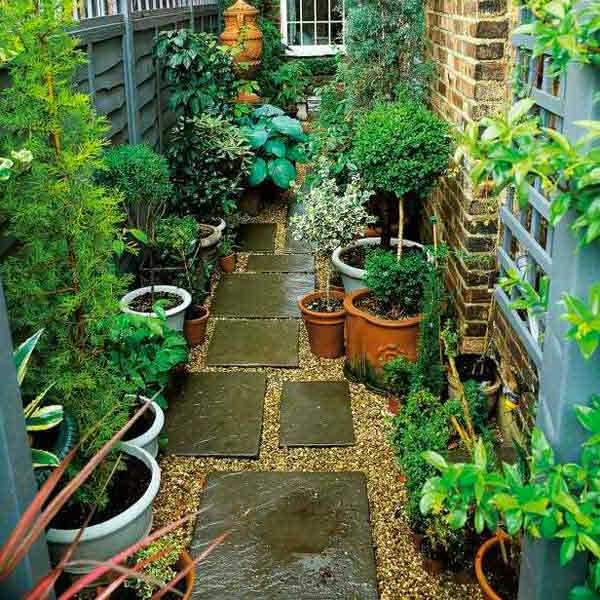 Tips for small area gardening...
Size isn't everything!  Maximise your small garden with our helpful gardening tips.
UK gardens are becoming increasingly smaller, but that doesn't mean you can't have the garden of your dreams, with a minimal budget too!
1. Build a 'living wall'...
Smaller gardens can still be effective in attracting wildlife, but less green spaces makes it more difficult to support the likes of butterflies, birds and bees, which are in decline.  A living wall, although complex to build initially, can provide a lush green habitat, save space and hide unsightly concrete or brick walls.  Opt for bright flowering species or vibrant lush green cascading plants for added depth! You can also use old pallets to start you off.
2. Add in some raised beds and pots...

For backyards with nonexistent soil adding raised beds is the ideal solution for plants, flowers, shrubs and veggie growing!  If you rent you can also take them with you when or if you leave, and have the added bonus of re-arranging your space as the seasons change.  Plus there is less bending as you garden, making it more manageable too!
Add a mix of large and small plant pots to your patio, courtyard or deck, overflowing with anything from small trees to wildflowers for an added boost of green.  A lush lineup of tall or creeping species will create a handy privacy wall too.
Our Organic Potting Compost is perfect for adding to raised beds and pots, plus it's easy to transport and store.
3. Go for corner seating...
Include built-in seating in a corner to keep your garden from feeling crowded.  Up-cycle wooden pallets for a cost effective seating area and enjoy the view of the rest of your garden.  Get in touch with us on 01244 280008 if you are interested in purchasing pallets from us!

4. Contemporary clean up...

Fussy gardens with too much going on can feel dark and overcrowded.  By painting all your walls or fences the same light shade (particularly white or grey) as your built in furniture (see above tip!) can open up a small space, giving the illusion of a larger garden. 

Crisp clean lines mixed with green foliage in raised beds and planters will provide a enough real gardening whilst giving you the enjoyment of a low maintenance contemporary garden.  Our Artificial Turf range is perfect for the ultimate low maintenance and trendy garden!
5. Mix hard and soft landscaping...
Adding contrasting areas of lawn, gravel and decking or paving will create a multi-use, multi-surfaced "mini-garden".  Simply scale down a larger garden without losing any of the benefits!  If your patch of lawn is too small to be worth getting the lawn mower out for then Artificial Turf is perfect, making your garden low maintenance in the process. 
Our Natural Stone Paving sets come in crate sizes of 15.25m2 and circles from a small as 1.68m2 - meaning you can transform your garden on a budget without compromising on quality! 
Smaller gravels, such as our Golden Gravel 10mm, will settle easily around smaller borders and top of raised beds, giving you a neat and weed free garden.