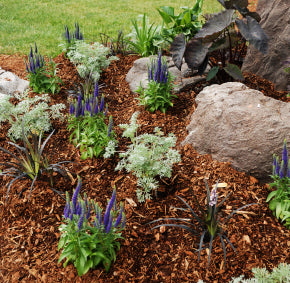 Which Bark do I need for my garden?
If you need help with mulching and the types of bark to use then look no further... Dandy's have a wide range of barks and mulches for every type of garden!
Firstly... what is Bark and Mulch?

Bark chippings are usually made from the bark or white wood of a spruce or pine tree, shredded and chopped up into small pieces; it is then graded into various qualities such as a British Standard Play Fall Material (BSEN1177) and standard garden bark.  They are often a by-product of the timber industry; Dandy's only stock FSC approved barks. Mulching is the act of using a material (preferably compostable and organic) that is applied to the surface of garden soil in a thick layer. Bark strips, bark nuggets, bark chippings, composted bark fines, compost and manure are all excellent mulches for this purpose!
Why should I mulch?
The basic purpose of mulch is to improve the soil structure, add nutrients, control moisture, suppress weeds and improve appearance of borders and beds.  Here at Dandy's we think it's an integral part of any garden!
What types of bark mulch are there and what are their uses?
Landscaping Garden Bark Mulch
Our Landscape Garden Bark Mulch is a lovely natural product that is great for topping off beds and borders to give a tidy finish and to help suppress those pesky weeds.  We also like landscaping bark chippings as covering for walkways in natural areas that benefit from paths that blend in to the surroundings rather than draw the eye.
As this is on the cheaper end of the scale price wise it's great for making over a garden on a budget.
Helps suppress weeds
Ideal for topping off borders, veg plots and beds
Keeps borders warm in the winter
Helps retain moisture in the summer
Cost effective
Dandy's PlaySafe Playground Bark
Play Bark is a 5 - 35mm pine bark nugget that is tested for impact so approved for use on playgrounds as a cushioning material - make sure you protect those little heads in case they come off the slide too fast or go right over the bar on the swings!  We advise that you check the required depth of the Play Bark for around play equipment as it can vary, but a minimum of 4 inches is advisable. 
Our Play Bark is tested to BSEN1177 which is a fall height standard - do please remember that this is a natural wood product so if the kids start rolling through it they are likely to still get splinters - if you're worried about that then you may want to consider rubber chippings or play sand instead.
Tested to BSEN1177 for impact
Ideal for play areas and adventure parks
Hardwood Path Chips
Our Hardwood Path Chips are a mixture of chipped hard white woods (not tree bark) - this one gives a less natural finish than the Landscape Bark or Play Bark but that doesn't mean it's not effective and it does provide a hardwearing result. 
Great for paths and walkways or for tidying up borders and the like, this is also a good choice for you animal lovers as it makes a great base for chicken runs and horse menages.
Decorative
Hardwearing
Helps suppress weeds
Ideal for creating pathways and topping off borders and veg plots
Other Hardwood Chips:
Play areas: Hardwood Play Chips are tested to BSEN1177 for impact so are great for adventure play areas where there is heavy foot fall.
Chicken Runs: Chicken Coop Chips are a real favourite amongst poultry owners!  They keep the run or coop fresh and chickens love to scratch in them.
Dandy's Premium Border Bark
Dandy's Premium Border Bark is a lovely natural product that is highly decorative.  These 5 - 35mm pine bark chippings will suppress weeds and feed the soil, whilst also smartening up shabby beds and borders. It's great for surrounding your best plants and shrubs to really show them off to their best!
Highly decorative
Helps suppress weeds
Perfect for topping off beds and borders
Composted Bark Mulch Fines
Our Composted Mulch Fines are fab for improving drainage and for lightening up heavy clay soils.
Composted mulch fines are a cross between a mulch and a compost - so light and nutrient packed, but very woody! This is a great one to mix into sad soil and it's also great for whacking down onto your beds and borders over the Winter, prepping you well ahead of time for the growing season come Spring.
Use on borders, veg plots, around pots and on flower beds
Helps suppress weeds
Adds nutrients to sad soils
Multi Purpose Compost
Our Multi Purpose Compost is a lovely black compost that can be used as a mulch for sad soils with a sandy consistency.  This will rot down quicker though so may need topping up more regularly.
Use on borders, veg plots, around pots and on flower beds
Helps suppress weeds
Adds nutrients to sad soils
Easy to work with
Cost effective
Suitable for all plants and flowers
Mushroom Compost (Horse and Chicken Manure)
Horse and Chicken Manure is a rich, black manure that is easy to work with and gives great results.  Our Manure is a mix of well rotted horse and chicken muck; it also goes by the name "mushroom compost" as, before it gets to us for bagging or blending, it serves a term growing mushrooms (you won't get loads of mushrooms in your borders, fear not).  Pop over your borders or Veg Plot and let the compost do the hard work; gives your soil a real boost ready for the growing season!
Use on borders, veg plots, around pots and on flower beds
Helps suppress weeds
Adds nutrients to sad soils
Easy to work with
Cost effective