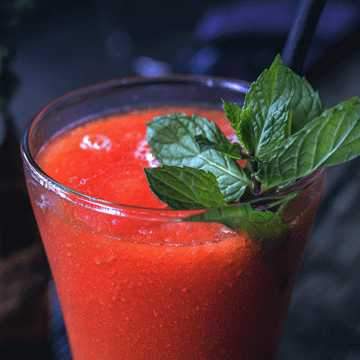 Kitchen Gardener - Bloody Mary
One of these with your breakfast on Christmas morning will get you in the Christmassy mood! Make up a pitcher of these and pop onto your breakfast table for the grown ups to help themselves. The vodka is absolutely optional – just make up the recipe without it!
Serves six
INGREDIENTS
Handful or two of ice
6 - 12 shots of vodka
1 litre tomato juice
Juice from one lime
Good shake of Tabasco sauce
Good shake of Worcestershire sauce
Pinch of salt
Couple of twists of black pepper
Sprig of mint from the garden
Optional – teaspoon of freshly grated horseradish or teaspoon of horseradish cream
METHOD
It's not hard is it? Whack it all in a jug and give it a good stir with the sticky bit of a wooden spoon!
Pour into glasses and garnish with a sprig of freshly picked mint (ours is still going strong in the herb garden despite the recent snow and icy temperatures!
Enjoy your Christmas morn tipple! Always drink responsibly!