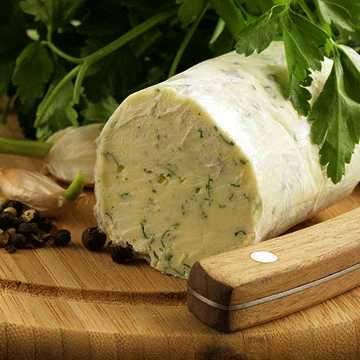 Kitchen Gardener - Herb Butter
Kitchen Gardener: Herb Butter
You'll be needing…
Pack of butter (usually 225g)
Herbs from the garden
Get your butter out of the fridge and leave it to soften up so it's workable but still fairly firm.
Chop up your chosen herbs as finely as possible and add to the butter – you'll want about 3 – 4 tablespoons in total.
Mix the herbs into the butter so that you get a thoroughly blended mix.
Place the butter in the middle of double layer of cling film – you'll want about 30cm off the roll, and then roll into a sausage shape, twisting the end so that you've a tight package.
Leave in the fridge for a couple of hours until firmly set and easy to slice off as needed.
This is one of our favourite ways to use up herbs grown in the garden. We planted a small border using a couple of bags of multi-purpose topsoil, and a few weeks later we had a bounty of fresh herbs to play with.
We also threw in some garlic, and by replacing the herbs in this recipe with a couple of crushed cloves we ended up with beautiful garlic butter with which to make delish mushrooms or yum garlic bread!
Our favourite butters to date are minted butter to serve on hot new potatoes, rosemary butter melted on top of lamb and sage and chive smeared on top of chicken before it's roasted in the oven! We've also tried our hand at home-made chilli butter using a finely diced chilli in place of the herbs – hot, hot, hot!