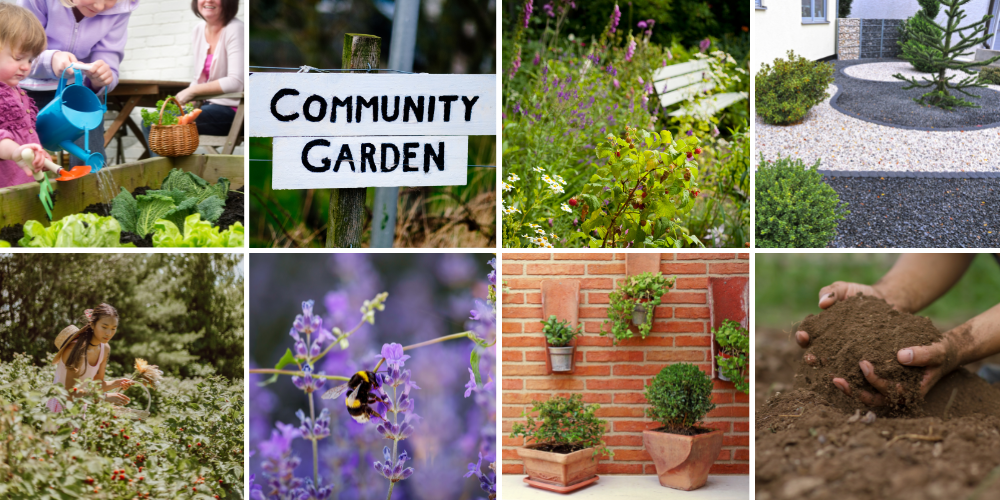 2023 Gardening Trends
Is your garden looking tired at the end of 2022?  Up the ante and spruce up your outside space with our 2023 gardening trends predictions...
Sustainable Soil that's Good for your Health
According to RHS, new findings have revealed that a soil bacteria known as mycobacterium vaccae is good for our immune systems, which could spark interest in mud pies this year!  Ingestion of mycobacterium vaccae is also shown to decrease anxiety-related behavior; 'Grow Your Own' and take advantage of this super bacteria!

At Dandy's we only source our Topsoil from virgin green-field, peat free sites.  We then leave the soil to fallow for 10 - 15years before we process, screen and ship it out to home owners and market gardeners.  Leaving the soil to fallow encourages the re-balancing of soil nutrients and re-establishing soil biota such as earth worms!
Sustainability is also key for 2023, with gardeners expected to use environmentally friendly materials such as FSC approved Bark Mulch and PAS100 compost such as our Multi-Purpose Compost.
Wildlife SOS
With over 2/5ths of animal species declining in Britain in the past 50 years as a result of habitat loss, we are losing our UK wildlife at an alarming rate. Help restore nature back to its glorious best by planting pollinator-friendly flowers and bring life into the garden.
Pristine plants are no longer the all the rage - make place in your gardens for imperfect designs, such as plants that leave seedheads for insects, as well as a shopping from a wider selection of greenery. Look into bee hotels, wildlife ponds, log piles, plants for pollinators and compost heaps.  Our 'Bee Dandy' Wild Flower Seed mix is ideal for welcoming in bees and butterflies to your garden.
Plant-based Power
Veganism is here to stay and it'll only become more popular.  With it's environmental, financial and health benefits, more individuals and companies than ever are choosing to reduce the animal products they produce and consume.
Growing your own plant-based protein is an easy, eco-friendly choice - and it could be a fun and interesting hobby too!  Try growing green leafy vegetables like kale and spinach with our VegeGrow Topsoil ; a pre-mixed organic topsoil that's peat free and ready to use. Unrefined grains like quinoa and amaranth are also good, along with super seeds like chia and flax and protein-packed nuts like hazelnuts and almonds.
If you grow your own food, you'll do wonders for the environment and your health. Any produce you grow has zero air miles, no industrial pesticides, and is packed full of high-quality nutrients.
Low Maintenance & Low Cost
Lawns Let Loose - Have a patch of lawn you don't really use?  Let lawns go wild and add some Wild Flower Seeds to your normal grass seed mix.  This means no cutting your lawn, which in turn saves energy, money and time PLUS provides a wonderful habitat for bees, bugs and butterflies!
Gravel for Good - We all value our time and if gardening isn't really your thing then we have the answer.  There's a huge 80% less maintenance involved when you opt for a gravel garden!  If used with anti-weed prevention membrane those stats are even better.  This doesn't mean you'll have a boring garden either; some of the most attractive gardens we've seen our customers transform have been with the help of gravel, stone or slate.  Using gravel is a cheaper alternative to paving an area (and definitely involves less skill!) but if budget isn't an issue then check out our Natural Stone Paving.
Community Gardening
We've seen a huge rise in Community Gardens these past few years and 2023 will be no different.  They have become such a huge part of local community - making sure people engage in physical activity, helping people to build skills and eat healthy fresh fruits and vegetables!  At Dandy's we're a huge supporter of Community Gardening and the benefits that come along with this - check out our Facebook page to see all the green spaces we've helped with lately! 

RainbowBiz CIC with a donation of 2 Jumbo bags of Dandy's Spent Mushroom Compost.
Colour Combo
Terracotta, Sage and Cream are going to be huge this year.  We started seeing elements of this last year with accessories in a tribal theme.  
 "The colour for 2023 is terracotta, as well as earthy tones like sage green, beige and cream. These evoke warmth, excitement and amusement," says Mark Lane, BBC Gardeners' World presenter, designer and Stannah (stannah.co.uk) gardening expert.
Our Red Granite, Cotswold Buff and Green Slate Chippings are perfect for this look; combine them all for a striking finish.
Cottagecore
"Cottagecore" is an aesthetic that celebrates simple living, particularly in the countryside.  It encourages a lifestyle rooted in traditional skills such as baking,  gardening, sewing your own clothes and raising your own livestock/produce.  'Grow You Own', giving back to nature and providing a haven for wildlife is going to be huge this year.
Grow berries and fruits with our Fruit Grow Topsoil & Compost.
Our Hardwood Path Chips are FSC approved and ideal for a paths, around borders, your veg plot and even inside your Chicken Coop. They smell fresh and woody, and they're aesthetically pleasing too! 
A Peat Free Future
All sales of peat to amateur gardeners in England will be banned by 2024.  Peatlands are the UK's largest carbon store but only approximately 13% of our peatlands are in a near-natural state!  Dandy's have been 100% Peat Free for years now in our effort to create sustainable products that you can trust. 
Why is peat so bad?  Mining peat causing the area to degrade and also increases the risk of wildfires. These two factors allow for increasing amounts of carbon dioxide to be released into the atmosphere, making them one of the biggest sources of greenhouse gases.  Peat mining is unsustainable as it grows back at just 1mm a year.