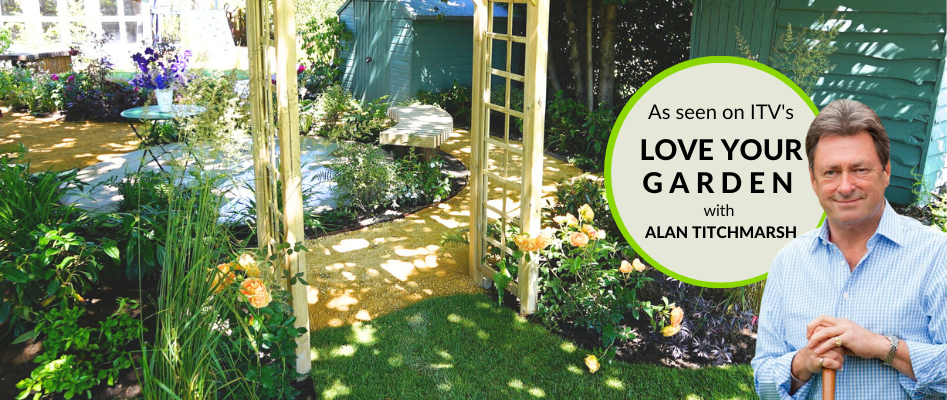 As Seen on TV! Love Your Garden with Alan Titchmarsh.
Dandy's
Self Binding Gravel Hoggin
is a unique and innovative landscaping solution that has been making waves in the gardening world. Recently, it was featured on the popular ITV show Love Your Garden with Alan Titchmarsh, which showcased its many benefits and advantages, as part of an amazing garden makeover.  "
Alan and his team were in Leeds to come to the aid of Penny and Carl, whose devotion to saving endangered hedgehogs has taken over any family space in their garden".
.
.
So, what exactly is
Self Binding Gravel Hoggin
, and why is it such a big deal? Essentially, it is a type of gravel that is a blend of either 10mm or 8mm sized particles, gravel dust, sand and clay that binds firmly when compacted.
.
.
.
.
Not only does it look neat and attractive but it's also easy to maintain - just requiring the odd bit of weeding.  This makes it perfect for car parks, paths, golf courses, cycle paths, bridleways and larger walkways such as at stately homes and heritage properties. 
On the "Love Your Garden" episode featuring Dandy's Self Binding Gravel Hoggin, viewers were able to see firsthand how this innovative product can transform outdoor spaces. With its natural-looking appearance and durable, long-lasting performance, it is easy to see why so many people are turning to this gravel solution for their landscaping needs.
Check our these images of the final reveal...
.
.
Overall,
Dandy's Self Binding Gravel Hoggin
is a game-changer for the landscaping industry, and its recent feature on "Love Your Garden" with Alan Titchmarsh is a testament to its growing popularity and success. If you are looking for a low-maintenance, eco-friendly solution for your outdoor space, Self Binding Gravel Hoggin is definitely worth considering!
Dandy's does not recommend this material be used during the winter.  Hoggin can only be laid in dry or very light rain and if the rain persistent or heavy, material may not bind.  We also do not recommend laying in cold or freezing conditions which could lead to movement and shrinkage when the ground becomes warmer.  Therefore, Dandy's will not accept any responsibility if this material fails when laid during winter months.