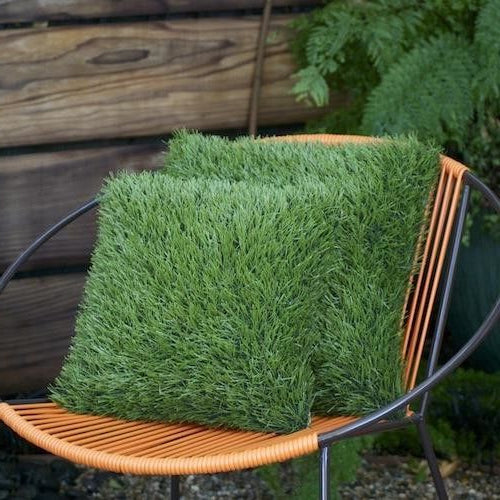 Artificial Grass Upcycle Ideas
Dandy's to become one of the 1st to stop all sales of Artificial Grass, due to lack of recycling options for customers.
5 years ago we stopped selling any peat products because of damage to the environment, later this month Dandy's will become one of the 1st to stop all sales of Artificial Grass too.  We are discontinuing our existing stocks and ensuring there is no waste in doing so.
We want to be part of the solution not the problem currently artificial grass isn't easily recycled.  We will still  
If you already have artificial grass at home and have decided it's not for you anymore why not upcycle it into something new? 
Check out these amazing Artificial Grass Upcycle ideas!
Bar Stools 
These stools make the perfect comfy seat and it's super easy to upcycle an old or cheap stool.
Simply use strong glue or a staple gun to secure your grass to your stool, the benefit being that the tufts of grass will hide any little flaws :) 
Make your own trendy 'House Number' sign
Cut your grass to the size you want and simply fix to a board or box before screwing in your numbers!  So effective and a great use of offcuts.
Create your own cushions
These cushions are fab for adding a natural feel to any outdoor seating.  Either add the grass to an existing cushion or create your own by sewing two square panels together...
...this crafty person has added a cute green trim to finish off the look!
Table Runner
This is possibly the easiest hack to transform your old lawn into a new useful item!  Simple cut a long strip and remove any ragged edges - the edges can be sealed with some glue.  You can also make matching place mats too.
It's also perfect for weddings and themed parties...
Have some creative ideas for us?  Email us sales@dandys.com with your ideas and crafts and we'll add them to our blog!