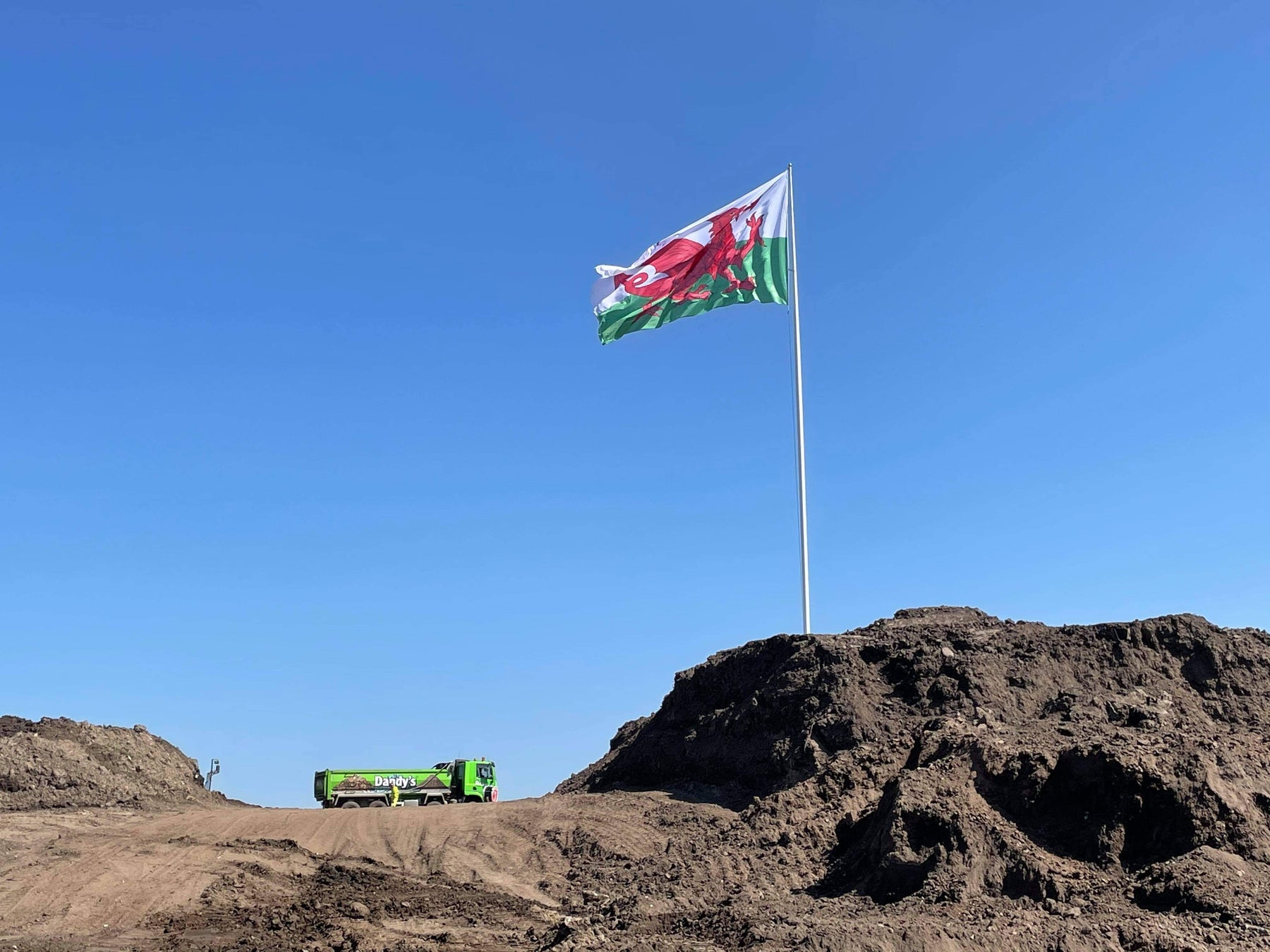 Largest Welsh Flag in UK raised by Jack Sargeant MS at Dandys Topsoil
Today Jack Sargeant MS for Alyn and Deeside in North Wales personally raised the largest Welsh Flag in the UK at Dandys Topsoil and Landscape Supplies Centre in Sealand, Flintshire, North Wales.
 To comply with Welsh Covid Rules the low key outdoor event was carried out in two separate areas, with the flag raising taking place away from the band members and then the Cambria Band with 6 adults socially distanced, marching up to the foot of the 25ft Welsh Flag which was now raised up on the 18m flagpole above North Wales and the village of Sealand. 
 The occasion was later celebrated by the famous Cambria Band who played the Welsh National Anthem at the foot of the giant flagpole on top of the highest landmass in Sealand at Dandys Topsoil, now visible for miles around. 
Members of the Cambria Band after the giant flag had been raised. 


Jack Sargeant MS who raised the giant Welsh Flag at Dandys Topsoil in Sealand. 
 Jack commented "It was a real privilege to be invited by local businessman Adam Dandy to raise what he reliably informs me is the largest Welsh flag in the country.

Adam is not only a well-known businessman but a real community champion and I am proud to call him a friend. Well done Adam Dandy and thanks for letting me be part of your special occasion."
 
Songs played by the Cambria Band during the raising of the flag included Men of Harlech, Calon lan, Ar hyd y nos Cambria, My little Welsh home

Later the band played some more old traditional Welsh tunes including Yr Hedydd, Sospan fach and the national anthem "Hen Wlad Fy Nhadau"



Cambria band members in attendance:

Elinor Richards
Samuel Garner (13)
Peter Newman (who was 85 last week)
Adam Phillips
Penny Newman
Tanwen Y Gaeaf Phillips (6)
Gwanwyn Blodeuwedd Phillips (18months)
Diolch to the relevant head teachers for their release.