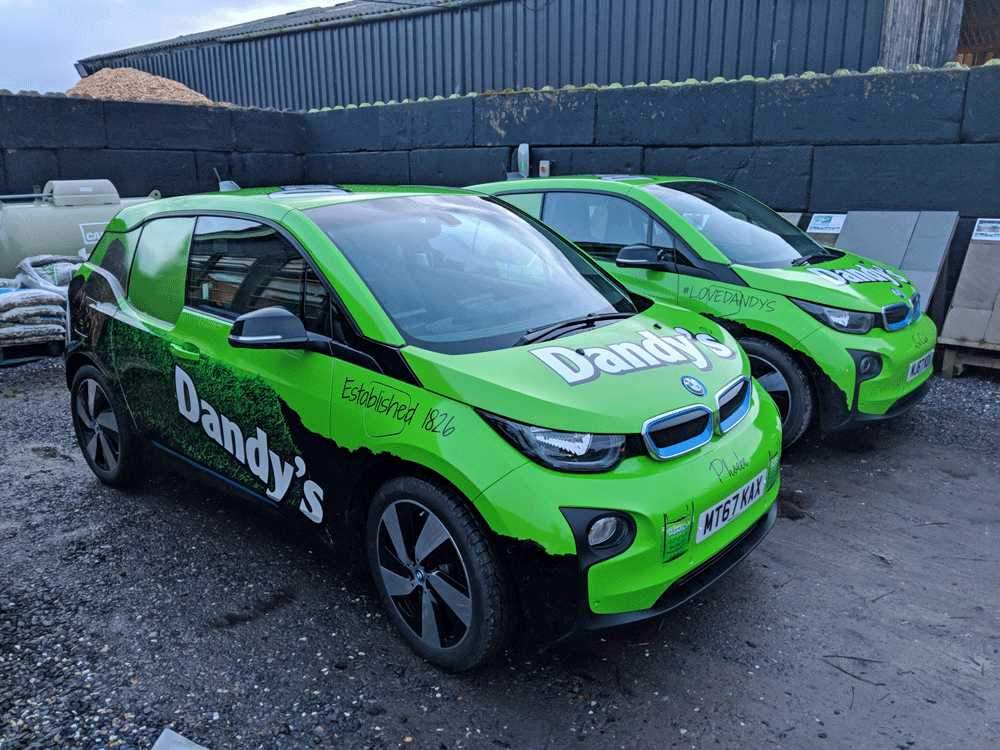 Dandy's Topsoil New Beemers Get a Make-over!
Our brand new electric BMW i3s have been returned to us from APM Customs in Sandycroft with a brand new look to match their 18 reg plates!
In order to get our new eco-friendly company vehicles on brand we've had them wrapped as part of our image overhaul for this year!
The Dandy green has gone a bit brighter and all of our vehicle livery will now showcase our extensive range of products. As the first of our fleet to be re-branded, the BMW i3s feature our top quality compost, play area bark, lush-green lawn turf and our tested for safety Play Sand.
In keeping with tradition, the cars have been Christened, with one named Phoebe and one named Leo -nickname- Cub, after two of our Directors children. The kid's were ecstatic when they saw the newly named vehicles and the company re-brand has so far been a huge hit with staff, customers, suppliers and friends and family.
We'll be taking delivery of our brand new bulk bag delivery vehicle -yet to be named- in March 2018 and as soon as it gets to the yard, our driver Andy will give it's first outing as it heads on up to APM for it's makeover!
Bulk bag delivery truck Anya will be next in line for a spruce up, closely followed by our coal and trade delivery vehicle and then our semi-retired Mitsubishi i-Mievs.
Dandy's will be focusing on a new image and improved service combined with an exciting new range of products this year, whilst keeping a keen eye on our carbon footprint and making eco friendly decisions and switches wherever possible!
Keep checking back for news of new developments at Dandy's HQ!