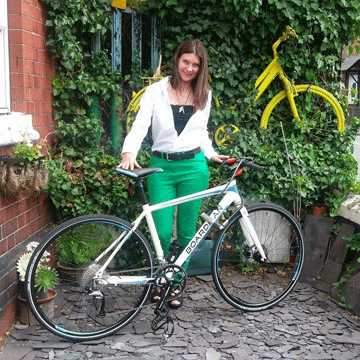 #PayItForward Update - Heather's New Bike!
A couple of weeks ago our big-hearted MD, Adam Dandy, noticed a comment on Facebook from a lady who had shockingly had her bike stolen from outside of the hospital she works at.
A fan of the #payitforward movement, Adam offered to replace her bike, like for like.
I followed up with Heather after she had taken receipt of her shiny new bike last week and it turns out that - unbeknownst to Adam at the time of his offer - Heather herself is a very charitable sort so we were delighted to hear all about the causes she supports and how she has been able to #payitforward after Dandy's replaced her bike.
"I'm totally grateful for this gift from Dandy's Topsoil Chester and it's timeliness in my life.
Following an initial visit to Sierra Leone in 2003 I've made several self-funded holidays to visit 30 orphan children who are mostly now teenagers or grown up young men and women.
I've remained in direct contact with those most in need of ongoing assistance in a country with no welfare state and only a 20% paid employment level.
I try to send out the regular donations I'm given as well as my own to pay for the medical, educative, accommodation (post children's home) needs of the orphans.
So, this bicycle gift is a blessing to them also... you passed to me… so I've more for them."
Heather is also a founder of the Trash and Treasure Artworks project whereby the company turns discarded tin cans and the like into funky art which is used to create prints, greetings cards and used in exhibitions. The proceeds from any sales of the artwork go towards helping Heather's charges in Sierra Leone.
Photographed and printed by local photographer David Heke, you can buy Trash & Treasure Artworks greetings cards from Chester Art Centre, Funky Aardvark and West Cheshire College Art Shop.
Heather's parting words… "Please assure Adam that I've purchased a D lock for it this time! Made of kryptonite! Thief proof!" :)
#payitforward