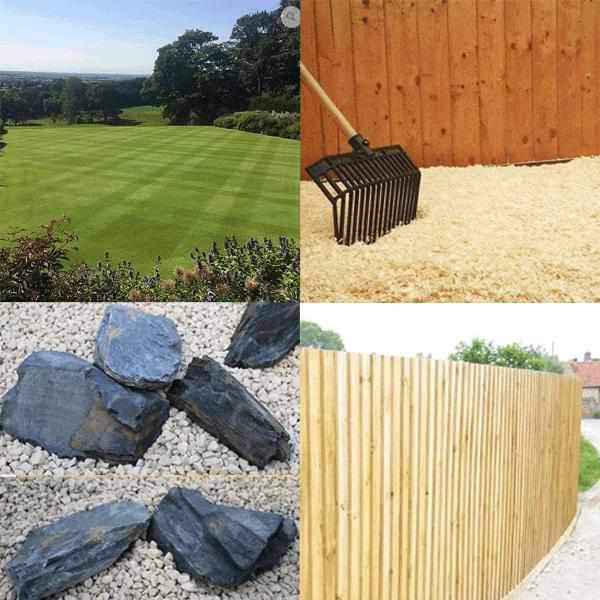 NEW in this week at Dandy's!
NEW in this week online and in store at Dandy's Landscape Supplies Centre...
Grey Graphite Slate Rockery
.
.
This striking rockery stone can be used as individual pieces on top of a bed of slate mulch or aggregate to create a contrast, or use as a feature in its own right.

Our Graphite Grey Slate Rockery crate is made up beautiful, natural, hand selected pieces from our quarry in Wales.  Each piece is approximately 250 - 400mm in size and tend to be angular.  They can be quite flat in a striking grey, sometimes with a naturally occurring gold colour running through it.
Approximately 50-70 pieces, sized from 250mm to 400mm per crate.  They are of mixed sizes to help create a lovely natural feature.
Over 20 different Grass Seed Mixes!
We now stock over 20 different types of lawn, landscaping and sports seeds online for home delivery.  You can buy packs of seeds from 2kg to 20kg.
Check them out here.
Fencing and Gate Posts

We are now stocking fencing and gate posts for collection from our Sealand Road depot - these prices are collected only but please call us if you need a delivery and we'll see what we can do!
Machined Half Round Rails - £7.98 each
115mm x 3.66m

Gate Post - £51.84 each
200mm x 200m x 2.1m

Feather Edge - £2.10 each
125mm x 1.8m

Sawn Posts - £11.28 each
125mm x 75mm x 1.8m 
Animal Shavings Bedding
Dandy's Animal Shavings are dust extracted quality stable bedding for your horse or pony.  They can also be used for small animal hutches!
Small, natural flakes make Dandy's Animal Shavings extra absorbent bedding material, to keep your stable clean, dry and warm.  Ideal for using on matted or concrete flooring to provide a soft, cushioned bed for your pony or horse.
Hoggin Self Binding Gravel
Dandy's Hoggin Self Binding Gravel is 10mm down to dust, in a golden tone.  The fines make it ideal for areas with a firmer finish when compacted.  
Perfect for car parks, paths, golf courses, cycle paths, bridleways and larger walkways such as at stately homes and heritage properties.
You can buy Hoggin by the standard 750kg bulk bag or our exclusive 1000kg Jumbo Bag.