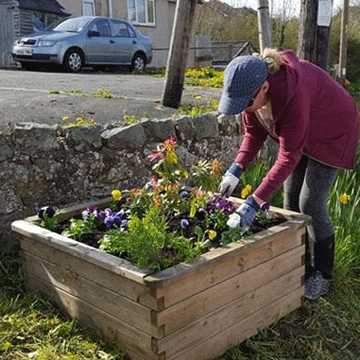 Blooming Marvellous Work in Treuddyn
Last week we received a polite request from Labour Cllr Carolyn Thomas who represents the people of the North Wales village of Treuddyn, for help to make the planters in the village stand out once again. Dandy's Sales Manager Simon Hughes said "We are always looking for different ways to give back to our local community here in North Wales and as such we were absolutely delighted to supply Carolyn and her team of volunteers in Treuddyn, with our rich, black, organic compost which has allowed them to raise up the new flowers within the planters for all to see throughout their beautiful village."
Cllr Carolyn Thomas commented "The Treuddyn Community are grateful to the team at Dandy's Topsoil for the kind donation of organic compost. It was used to refresh containers at focal points around the village and at the sheltered accommodation bungalows. We also created a wildflower area along a well used footpath. Thank you for helping the volunteers."