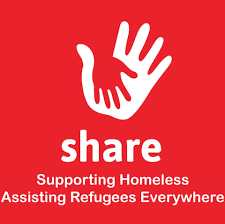 Dandys donate £10,000 to SHARE to support people without a place to call home
One of Britain's leading & oldest topsoil suppliers Dandys, have donated £10,000 in facilities and cash to homeless and refugee charity SHARE.
Dandy's Landscape Supplies, based in Sealand, North Wales have donated storage facilities and cash to the value of £10,000 to the local charity which boss Adam Dandy is a founding member and Trustee of.
Commercial Director Katie deWinton said "Share is a charity very close to our hearts at Dandys.com , we have seen it grow from the very first day, sending hundreds of tonnes of lifesaving aid across the World, we have followed closely and supported all the success stories it's had along the way, changing and saving numerous lives and forcing change within our local communities across Cheshire and North Wales.
The volunteers at SHARE are to be congratulated, and we are so proud to support them in the work they do, day in day out. 
Today we were pleased to donate a new glass cake stand to the charity's ShareShop in Chester, to allow them to display and sell cupcakes from next week, as well as a cash donation towards a new ShareVan, which will allow Share Volunteers to continue delivering and collecting aid for people without a place to call home, for years to come". 


If you would like to support SHARE please visit: shareaid.co.uk